Building a Reading Community in a Time of Social Distancing
During a time of social distancing and to promote National School Library Month, members of MASL wanted to think of ways to connect people and share resources that would help others foster a love of reading. Using a forum called #TalkaboutIt Tuesdays, MASL offers a webinar where various topics related to school libraries and reading are discussed. On March 31, 2020, our first #TalkaboutIt Tuesday, librarians were encouraged to check-in, discuss #MASLreads and provide more suggestions for reading and literacy. 
#MASLreads
During the month of April, anyone who would like to join a reading community can try one or more of the listed activities. Created to look like a popular game, anyone can complete the activities and share their progress using any social media platform they wish. Whether you use Instagram, Twitter, Facebook or TikToc, share what you have completed using one or more of the hashtags: #MASLreads and/or #readtogether.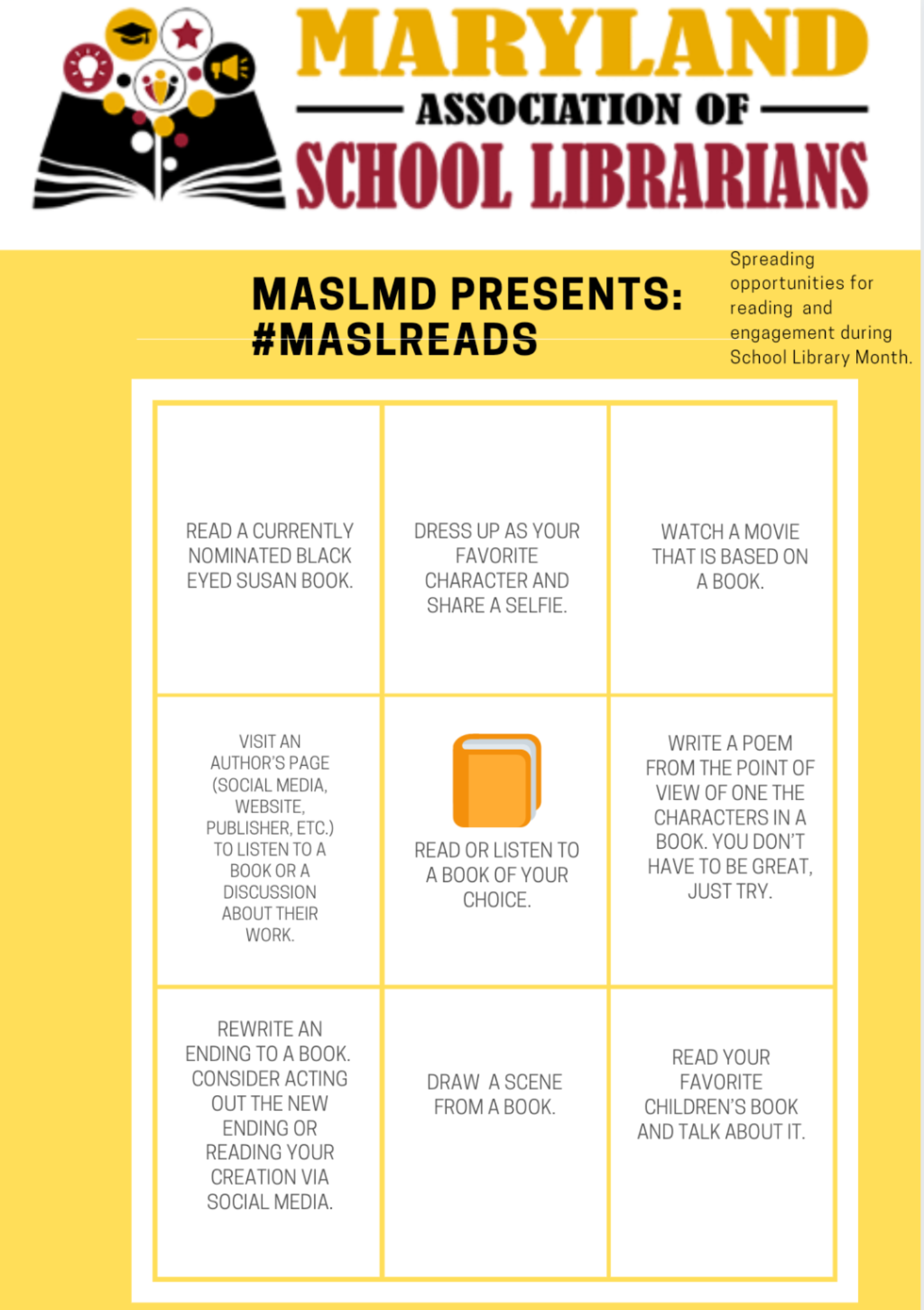 #ReadingHour
One of the participants had a great idea, to offer hour of happiness via social media. From this idea #ReadingHour was created. Open to all ages, we will use Instagram Live to check in on each other, discuss the books we are reading, share our progress in #MASLreads activities and much more. The first #ReadingHour will take place April 3 at 4 pm and will continue throughout the month of April. Visit the @thelitlc and join us.
First Chapter Fridays
Something for educators, consider sharing the first chapter of a book on Fridays. Keeping in mind copyright laws, educators who wish to try this may want to offer this event in forums that are only accessible to students and in a closed (non-public) forum.
FlipGrid and What are You Reading
A FlipGrid where people can share what they are reading has been created with the title - What are you reading? Anyone can access the FlipGrid. When creating a video, introduce yourself and talk about what you are reading. You may upload a video by using this link and share it using the #MASLreads and/or #readtogether.
A Read-a-thon
April 17-18 will be a day of reading and sharing. This is still in the planning stages.  Anyone will be able to participate and join us as we encourage people to #readtogether. Everyone can share their experiences with the various reading promotions. We will also offer a forum for connection using Instagram Live. Students, parents, authors, librarians, bibliophiles and newly engaged readers are encouraged to join us.
The next #TalkaboutIt Tuesday will be held April 7, 2020. Check Twitter for detailed information.
Share this post: